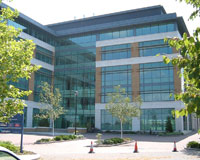 Rich pickings on London's doorstep? Investors seem to think so. As much as £1.3bn was spent on South East office investment in the second quarter of this year.
More than £422m of that was from London-based UK insurers and pension funds buying in their own backyard – a massive vote of confidence.
Fast-moving players such as Kennedy Wilson Europe Real Estate have been grabbing what they can. KWE recently snapped up a nine-office portfolio for £211m. The deal included the 109,700 sq ft…
Other News
Tax, 'toppiness' and the non-existent Trump bump. Just what is happening in the US real estate market?
Whatever you might think of the US's new president, many expected Donald Trump's election to boost business and US growth in general. CBRE's head of… Read more »
E Europe
Innovation is the catalyst for change
Having a voice is one thing. Making sure it is heard is an altogether trickier business, even if you are a world-renowned architect responsible for… Read more »
E Europe
Smart cities need intelligent infrastructure
Cities are under a lot of pressure. Once upon a time it was perfectly acceptable for global metropolises and the buildings they comprised to stand… Read more »
E Europe