With one foot in Europe and the other in Asia, Istanbul is at the centre of current geopolitical turmoil, but how much of an impact is this likely to have on the city's real estate market? Emily Wright travelled to Turkey to find out more in the wake of the country's airstrikes last summer
---
On 24 July last year, the Turkish government made a bold move. A move that came as a complete shock to many and subsequently rocked the country's position of relative stability amidst an already volatile geopolitical situation. It launched air strikes on IS (Islamic State) targets in Syria.
The move, retaliation against the death of a Turkish solider on the Syrian border the day before, was particularly significant as it marked the first confirmed active involvement by the country since the start of IS's rise in 2013.
The immediate reaction not only raised fears over security – particularly in large Turkish cities – but exacerbated existing, internal political rifts between those who supported the government's move and those who firmly opposed it.
Fears of retaliation in Istanbul – a busy tourist hotspot and, arguably, the jewel in the country's economic crown, responsible for 30% of Turkey's overall GDP – were rapidly addressed. Three consecutive midnight raids were carried out immediately, with IS sleeper cells and other militant groups, including the Kurdistan Workers Party (PKK), targeted in an operation that involved 5,000 police officers raiding 140 addresses in 26 districts of the city.
Within 48 hours, the Turkish foreign office had issued warnings of a high terror threat to the Metro. It was advised that trips to well-known tourist spots and areas around government buildings should be kept to a minimum. And from one day to the next, new airport-style security gates were being hastily installed at the entrances to shopping malls and office blocks. Even a quiet stroll through one of the former fishing villages on the Bosphorus, one of the calmest parts of the city, became a tense experience as the far-off hum of a demonstrators' chant carried across the river. And everyone, even the locals, visibly bristled with tension.
Of course, it is important not to get caught up by a misrepresentative mood. Visiting somewhere like this three days after shock airstrikes was bound to result in a particularly tense atmosphere. Nevertheless, the longer-term impact of the volatile situation on the city's property market became a valid question.
"I am no expert in Islamic State's strategies," says Kerim Cin, managing director of Colliers Turkey. "I can't foresee what is going to happen geopolitically here in Istanbul, or in Turkey generally with our internal political issues. But I think everyone expects increased violence in big cities. And I see a knock-on risk for real estate here."
Predictable cycles
Economic cycles can bring cities, countries, even entire continents to their knees when on a downward trajectory. But a cycle is, by definition, a pattern. No downturn ever comes as a total shock, even if its severity or length has been underestimated. Ultimately, cycles are entirely predictable – although you would never know based on the number of times people fall into the same traps, make the same mistakes and suffer the same fate.
But geopolitical instability is much harder to track or prepare for. From last year's conflict between Russia and Ukraine to the rise of conservative Islam, the world is full of potential flashpoints that could rock a market suddenly and without warning. But just how seriously should this be taken when it comes to making investment decisions? And is there a perception gap between western and eastern investors as to what constitutes real risk?
A week in Istanbul at the height of this summer's political tensions helped answer some of these questions as agents, architects and developers on the ground gave first-hand insights into the impact external risks can have, almost overnight, on a city's real estate market. And in this case a city that, just over six months before, was the talk of MIPIM and being hailed as the most up and coming real estate investment spot in Europe.
Difference a year makes
This time last year, Istanbul was the European city to watch. Research by TIAA Henderson predicted it would be the fastest-growing on the continent between 2015 and 2030; property prices rose by 19% in 2014 thanks to an increasingly young, wealthy population; and the city was also named Europe's fastest-growing consumer market.
Then there is the demand. Most of the city's office blocks are more than 30 years old and not built to withstand earthquakes, there is a housing shortage at the lower end of the market and a swathe of infrastructure schemes under construction, including the city's third airport, set to be the biggest in the world when it opens in 2018. So the opportunities are still there. It is just a question of whether anyone still wants to invest. And if so, where?
Interestingly, despite recent political instability, statistics released this month about growth and investment in Turkey generally and Istanbul specifically were positive. This came as just as much of a surprise to those on the ground as to investors looking in. Not only has Turkey's GDP growth exceeded expectations, coming in at 3.8% for the second quarter of 2015, but credit-rating agency Fitch confirmed last week that Turkey would maintain its investment rating despite "prolonged and deepened political instability". This is mainly because the government managed to maintain fiscal discipline throughout this period and
has "sufficient sources of foreign liquidity."
But Turkey's overall growth for the year has been downgraded from a predicted 4% earlier this year to 2.9% and the lira remains at a record low because of investors' "chronic concern" over the 1 November general election and the predicted violence in the run-up to it. It is this, added to fears of an IS retaliation, that has put Istanbul in a difficult, potentially dangerous, position.
"Violence directly affects consumer demand," says Colliers' Cim. "This will affect foreign investment in commercial markets, and the increased risk of violence in big cities like Istanbul affects retail and leisure in particular.
"We are working with a lot of investors on hotel projects and I think a lot of them will stop until things are resolved or people have had a chance to see how far the situation will escalate. For example, we had interest from a big Japanese investor five months ago which was interested in investing on an institutional basis. We have just heard they have decided not to invest here due to the violence of Islamic militants."
Avis Alkas, chairman of JLL in Turkey, says: "There have been some adverse effects of the political uncertainty in Turkey. And we were very surprised by the airstrikes in Syria. People like to invest in calm countries, so we might see a short-term dip. But in the medium to long term, Turkey and Istanbul will continue to be very good investment opportunities because of planned infrastructure upgrades and the growing population."
And this seems to be the general consensus – that the double whammy of uncertainty around Turkey's failed coalition government and the threat of terrorist activity are likely to affect the market – but probably only in the short to medium term.
As Erkan Sonmez, chief executive of Turkish mixed-use developer Aydinli, says: "The political issues will maybe have an effect right now, but they won't last for ever. They will be sorted out. And when that happens, Turkey, and Istanbul in particular, will remain very strong investment options."
Pippa Malmgren, George W Bush's former economic adviser, adds that fears over investment in certain regions can differ depending on where you are based. "There are huge opportunities in areas that are perceived to be risky," she says. "Istanbul is tricky politically at the moment, but the rate of development and population growth there means they won't even have to try to grow in the long term.
"It is a question of your risk tolerance. If you are very nervous about the rise of conservative Islam, don't invest. But personally? I would put Turkey, and specifically Istanbul, at the top of my list when it comes to investing in the Islamic world."
Opportunities
It is little surprise that most development is on the European side of the city, which is cut in two – with Asia on one side and Europe on the other – by the Bosphorus river. There is also a huge shift away from city centre development to the outskirts and suburbs – and it is easy to see why.
Space to develop in the historic centre is almost non-existent. And Istanbul's development boom further away from the city centre is being fuelled by infrastructure investment.
A new £18bn airport is under construction to the north-west of the city. When completed, it will be the world's largest with a capacity of 150m passengers a year. It is set to be fully operational by 2018.
Other major infrastructure projects in the pipeline include a £1m third bridge over the Bosphorus complete with four motorway lanes to ease traffic congestion in the city.
JLL's Alkas says: "New luxury hotels are opening up a new, high-end market here, and the development of a third bridge across the Bosphorus and a third airport will open the city up even more."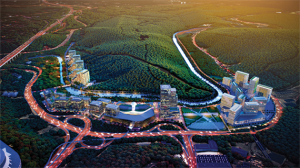 Indeed, the infrastructure upgrades are resulting in grand predictions for regeneration along the routes out of Istanbul. Housing developer Mar Yapi is building a 721-flat Yoo scheme comprising two 35-storey towers just off the main highway towards the new airport (see picture, above) and Vadistanbul, the biggest mixed-use project in Turkey (pictured), is being developed just north of the city.
"The project is worth $2.5bn (£1.5bn) ," says Erkan Sonmez, chief executive of Aydinli, the Turkish mixed-use developer behind the SOM-designed scheme. "We are working in three phases. The first, now complete, is around 1,300 flats. There will be 3,000 eventually. Then there will be the biggest business park in Turkey and a new shopping mall. We are unique in that we are the only project I know of in Turkey that has sold offices before they have been built. Domestic and international companies have already taken space."
The mega scheme will also include its own river – water will be pumped from the Black Sea to fill it – and its own light rail system to take people to and from the nearest Metro.
As for whether there is a demand for developments of this scale, Sonmez is convinced that, at the right price, this is exactly the sort of stock Istanbul needs. "We are building B-class projects – we call it mass housing," he says. "Huge developments with all the facilities people need priced at around $3,500 per sq m. These projects offer something we don't have here any more – greenery. Somewhere children can play and where you can park your car and visit the shops easily. We will put in swimming pools, playgrounds, schools and daycare. What we are delivering is something totally new in Istanbul."
Sonmez says infrastructure upgrades will see a boom in urban regeneration projects and large masterplans as the city grows.
But as Gonca Pasolar, founding partner of Emre Arolat Architects, explains, it is not always easy to deliver these mega schemes. "We are working on a $1bn mixed-use scheme in Sisli [north of the city centre] where there will be land that we give back to the public in green space," he says.
As for individual sectors, there is almost a consensus that after eight new shopping malls totalling 4.7m sq ft were built in the last year, that the retail market is saturated.
But there are opportunities in the residential and offices sectors, as so much existing stock is old and, in many cases, dangerous, especially as researchers from MIT have predicted the city may be due a major earthquake in the not too distant future.
"If you get the location and the concept right, then there is always demand for a particular type of residential," says Colliers' Cim. "Usually mid- to high-end stock in central locations on the Bosphorus. And as for the offices, there are tier one companies operating out of substandard buildings that are 30 years old. So there are opportunities there too."
It is clear that opportunities to invest in Istanbul real estate are still there. But with external factors as unpredictable as a high terror alert twinned with internal unrest over upcoming elections to contend with, it is likely that short-term investment options in this market will see a slowdown.
But in a city that takes such a long-term view anyway, relying on big infrastructure projects and decade-long regeneration programmes, does that really matter?
Ultimately, it must come down to the confidence of the investor in the market. As the saying goes, fortune favours the brave. It might just take some time for investors to muster enough courage to cash in on the spoils.
Listen: Istanbul's property market and prospects amid political instability