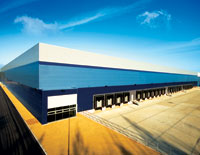 UK warehouses are seriously hot. Everyone wants to buy into the sector. And why not?
The appeal is obvious: a market with super-tight supply of good, modern floorspace, with a side bet on the booming UK e-commerce sector, which is driving demand. Competition for modern, well-located warehouses is now intense, off-market sales are the rule, and yields are plunging.
Investors know exactly what they are looking for – well-located, modern, between 100,000 and 350,000 sq ft. And none has a sharper…
Other News
Tax, 'toppiness' and the non-existent Trump bump. Just what is happening in the US real estate market?
Whatever you might think of the US's new president, many expected Donald Trump's election to boost business and US growth in general. CBRE's head of… Read more »
E Europe
Innovation is the catalyst for change
Having a voice is one thing. Making sure it is heard is an altogether trickier business, even if you are a world-renowned architect responsible for… Read more »
E Europe
Smart cities need intelligent infrastructure
Cities are under a lot of pressure. Once upon a time it was perfectly acceptable for global metropolises and the buildings they comprised to stand… Read more »
E Europe