When you walk into the workplace of an innovative company run by a young, tie-eschewing entrepreneur, you might have some expectations. An uber-trendy address, perhaps? A slick interior permeated by the scent of hand-crushed coffee beans? At the very least, a whole host of hipster beards.
But you will see none of that at Pavegen's King's Cross, N1, office. Yes, the company's founder, Laurence Kemball-Cook, is 29. And no, he is not wearing a tie. But he is clean shaven and his office on a council estate could probably do with a lick of paint before he even thinks about too-cool-for-EGhip-hop playlists and craft beer pumps.
This young industrial engineer is proof that the preconceived idea of a modern, start-up workspace is not crucial for innovation. From his understated office he has invented a product that he is convinced can transform the way the built environment uses energy and data, one that can help create a sustainable future as the population of planet earth booms to more than 9bn and the development of smart cities blossoms.
"We want to be the Intel Inside of smart cities," says Kemball-Cook. "We want Pavegen inside every floor, every road, every bridge, every building, utilising this potential energy so that smart cities of the future can be power hubs."
It is a colossal ambition, one so far reaching that it begs the question of whether Kemball-Cook's vision is realistic or nothing more than a pipe dream.
To answer that, we need to know what Pavegen is.
Footfall energy
Essentially it is a floor tile that uses kinetic energy – people walking over it – to produce energy, energy that businesses can use to power their buildings. The latest version of the tile – officially launched last week – is also bluetooth and WiFi enabled and collects a whole host of data.
"Our aim is to take our technology to every community in the world," says Kemball-Cook. "Every community should be able to access different forms of power. So every favela, every township, every smart city, every future retail development, every airport should have the ability to access our technology."
The issue, however, is cost. Initially a tile cost £5,000, making it impossible to expand across the built environment. Pavegen later got the price down to £300, a massive reduction but still too expensive for mass appeal. The latest version will cost even less, a price Kemball-Cook hopes will be more appealing to the development community.
"Our goal is to work on every single major new development in the UK," he says. "We want to be part of the specification in the early stages. We have been expensive in the past and people have written us off because of that. We had to build a business that was sustainable. Now the price has come down, we will be revisiting a lot of the early conversations we had."
Kemball-Cook says the new tile will be "absolutely pivotal for creating new revenue streams for clients and creating much more useable technologies they can expand across their premises".
The tile in operation
There are already examples of the tile in use across the built environment. It is in operation at Heathrow T3, across train stations in northern France and in London Zoo. Using the tile, Pavegen has created installations for Siemens in Federation Square in Australia, and in the US, Pavegen is about to lay 64 tiles at Dupont Circle in Washington DC that will power 36 uplighters. Footfall from tourists and DC dwellers during the day will create stored energy to be used as the sun sets.
At Westfield Stratford in east London, Pavegen is installing a large array of tiles outside the Underground station. Those tiles will power lighting and provide valuable footfall data and patterns for Westfield.
It is also working with Transport for London and the New West End Company on creating an "intelligent street" in the heart of the capital's West End. The project – focused on Bird Street, just off Oxford Street and close to Selfridges – aims to use cutting-edge technologies to generate energy from the sun and pavement movement.
---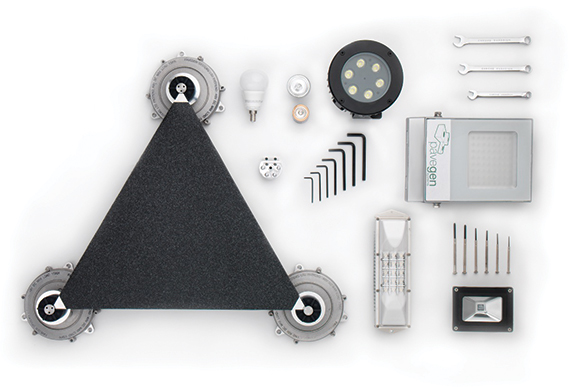 ---
"The tile is just a dumb tile. People make the tile smart. The question isn't how much energy does the tile produce, it is how many people are on it."
Retail is a current focus for Pavegen, not only because of the high level of movement in and out of and around shops, but because patterns of footfall and connectivity to customers is of ultimate importance to retailers and retail landlords.
"The path to purchase has been talked about for years in retail but we believe we have a digital path to purchase here," says Kemball-Cook. "You can even use the floor tiles to pay for things, to attract people as they move in real time. It's about having your digital shop online while part of the physical world."
While just three steps on the tile can power a light for 70 seconds, Kemball-Cook says it can do much more than that. It can provide information on dwell time, directional flow, footfall, and more, all of which help retailers and landlords better utilise their space and sell their goods.
"The tile is just a dumb tile," he says. "People make the tile smart. The question isn't how much energy does the tile produce, the question is how many people are on the tile. The technology isn't suitable for people's kitchens but it is suitable for high-footfall locations."
So, while retail will be the first port of call for Pavegen, office developers are also on the firm's hit list.
"The tile knows who is walking over it and we have the ability to detect who is walking over it at what times. You could walk into an office and it would know to open the lift door for you and take you to your floor," says Kemball-Cook.
A tool for developers?
All a little Big Brother perhaps, but very cool. But is that a big enough selling point for a developer or occupier?
Kemball-Cook is convinced it is. He says the tile could help reduce lag time in a building, help with dynamic footfall routing, show where and when the building is most active, push content to people and, of course, make a contribution to the power in the building.
"We sit between a lot of the big themes right now," says Kemball-Cook, listing them off on his fingers.
• Wellness – "Employee productivity is linked to wellness and we believe Pavegen can be part of that". He says the tile has been purposely gamified following initial trials in schools where the pupils actively sought out the tile to walk over. And let's face it, there's that kid in all of us.
• The internet of things – "Dubai recently announced an expansion of sensors across the whole of Abu Dhabi. Those sensors need power," says Kemball-Cook. "The prolific increase in the use of sensors for everything from detecting pollution to collecting data about transport and so on can be powered by Pavegen."
• Big Data – people movement, crowd patterns, how they are working –Kemball-Cook says the tile can provide data on all of that.
• Sustainability – "Everyone has been talking about sustainability for a long time, but what does it mean? It is about generating power from off-grid sources, using renewable energy, recycling. The one thing that gets overlooked is the need to engage and educate people. We could have the greenest city in the world but if everyone throws their rubbish on the floor and never turns their lights off, there is no point having it," says Kemball-Cook.
He is convinced there is a world of opportunity out there for Pavegen. "Think of the amount of floorspace there is in the built environment versus the amount of space there is for other renewable energy sources," he says.
And like any true millennial-run business, Pavegen is keen to give back. It is possible that one day, says Kemball-Cook, the tile could be given away for free.
"We have the ability to make a massive macro impact on the world," says Kemball-Cook. "A small idea that I had six years ago in my bedroom has the ability to change the way people use energy. I think that donating our technology to those economies that really need it is where we can create a huge, huge impact on people's lives."
Maybe one small step for man really can be a huge step for mankind.
---
The Pavegen story
The Pavegen tile is the brainchild of Laurence Kemball-Cook, a Loughborough University industrial design and technology graduate.
He began his career at eon, tasked with developing new forms of street lighting, specifically a solar-powered street light that incorporated wind generation. After a year of designing and redesigning, it became clear the project was just not viable. Frustrated, Kemball-Cook left the business.
But he says he could not stop thinking about the problem and started pondering on how a floor could be designed to make tangible amounts of power that could be used inside and outside and cost the same as normal flooring.
Kemball-Cook built the first prototype in 2009 after winning some prize money. He then went about raising £150,000 to allow him to go from one prototype to small batches of the tile. The deal with Westfield at Stratford was closed while the tile was still in the prototype stage and the contract value (in the £100,000s) gave Pavegen power to raise even more money. First £550,000, then £500,000 more in 2014 and then £2m in 2015 via Crowdcube. Another round of funding is due soon.
During those years, the Pavegen team has worked with Shell to power a favela in Rio de Janeiro from children playing football on a Pavegen pitch. The team has also worked with Will.i.am; the "king of innovation", Apple's Steve Wozniak; and Adidas, which turned Victoria Park in east London into a Pavegen-powered running track for a special event.
Investors and advisers to the business include JLL UK chief executive Guy Grainger, UK Green Building Council chief executive Julie Hirigoyen, former senior Apple executive Jeff Martin and FLOR inc founder Greg Colando.
From an idea in a bedroom six years ago, Pavegen now has operations in 10 countries around the world, including the US, Australia, Korea and Japan, plus a technology campus in Cambridge staffed with, says Kemball-Cook, "seven of the best mechanical design engineers in the world".
---
SEE ALSO:
How exactly does it work?
How much power does a Pavegen tile generate?
How many people will walk over the array of tiles?
Find all these answers and more in EG's tech feature.
• To send feedback, e-mail Samantha.McClary@estatesgazette.com or tweet @Samanthamcclary or@estatesgazette