Few designs for an Olympic Park site have promised to deliver a spectacle more impressive, more inspiring or more breath taking than Aecom's masterplan for this summer's Rio Games.
A lagoon-side peninsula in the city's Barra da Tijuca district was always going to be a good start. A tropical paradise flanked by bright, blue waters with 15 venues dotted among carefully selected Brazilian flora and fauna with the lush, green Mantiqueira mountain range looming up in the distance – the ultimate backdrop for what is arguably the ultimate Olympic masterplan. A masterplan led by a team of UK designers.
But plans are one thing. Delivery is another. And it is no secret that the run-up to Rio has been one of the most challenging Olympic countdowns in recent history. Claims of corruption were raised at the outset, fears over completion times have been constant and remain rife just two weeks out from the opening ceremony on 5 August. Add to that some serious local opposition, a nosediving Brazilian economy, the threat of terrorism, and a plethora of unforeseen hurdles, including the Zika virus outbreak, and suddenly that tropical vista looks more problematic than paradise.
Luckily Bill Hanway is unwaveringly calm under pressure. Cool, upfront and refreshingly honest, it is no coincidence that Aecom's global sports leader is delivering designs for not one, not two, but three Games; Rio 2016, Tokyo 2020 and Los Angeles 2024.
This is the man charged with working on huge sites, in the public eye, on a global scale, to immovable deadlines on some of the most challenging terrains in the world and with national reputations at stake.
"There are always some 'oh my god is this going to be OK?' moments," he says. "And with Rio? Well. There have been so many challenges you do sometimes find yourself thinking 'could this get any worse?'"
So could they? Will they? On a rare trip back to the UK Hanway talks about the ups and downs of delivering a trio of Olympics, reveals his hopes and fears for Rio, and considers the power of an international sporting event to unite a global community in uncertain times.
Changing climates
The countdown to South America's first Olympic Games is well and truly on. And it has been far from an easy ride since the city won the bid in October 2009.
Not least because, back then, the Brazilian economy was on the ascent and its GDP was on track to overtake the UK's. Growth rates were hovering at around 5.5% year on year and the country was one of the first out of the global recession. Now, a fall in global commodity prices and political uncertainty has pushed that GDP figure by 3.8% in 2015 to a 25-year low.
This, says Hanway, has been a huge challenge. But not an insurmountable one. "The economy in Brazil is suffering. But if you think back to when London won the Games, the economy here was on a stable footing and everything was moving according to plan. Then 2008 happened. We had the great crash and a lot of the public-private deals that were put in place needed looking at again. The private sector couldn't get the funding and that had required a step in from the public sector."
But the step in came. And London, which Aecom was also overseeing, ended up being one of the most successful games ever. But Hanway says that there is real pressure following such an unmitigated success story, people can be quick to forget that the planning process was not without hiccups: "In London everything worked in the end, even the weather. Sometimes luck just comes to play. We get to rewrite history a bit when we look back on London because it was so successful. But even in the weeks leading up to the Games there was scepticism about how good they were going to be and whether the country would rally. And we know from having worked on that project for many years that there were times where there were challenges we just didn't think could be overcome. But you just sort of work through it. You trust your colleagues, your team, and the other people who share the vision."
But it cannot be denied that Rio and London present very different stories. The International Olympic Committee vice-president John Coates was quoted in the London Evening Standard in May 2014 saying of Brazil's preparations: "They are the worst I've experienced." Since then construction and infrastructure have been severely behind schedule throughout the run-up to the Games and, while the venues are now finally looking in good shape, the metro extension linking the satellite venues of Ipanema and Copacabana to the Olympic Park, due for completion several months ago, will now open just four days before the opening ceremony. And the cost of the line is reported to have doubled from about 5bn real (£1.2bn) to about 9.7bn real.
Does Hanway's trust still hold firm in such testing times? "There are some venues that are still in the final stages of construction," he concedes. "But things are progressing rapidly, so I'm not as worried about that as everyone else seems to be. We weren't responsible for the public transport, and you have to be reliant on your partners and your colleagues. The city has announced that the metro will be open in time. So the formal structure of public transport and movement is in place, and it will just come down to the execution in the end."
Diplomatic, supportive but decidedly noncommittal. And a neat lead-in to the real question: will Rio be ready – entirely ready – for 5 August? "I'm an optimist," says Hanway. "So I believe that it can happen and will happen successfully."
The fact that optimism over certainty is still required with weeks to go is telling. Positivity tempered by a touch of honesty: Hanway's trademark.
Challenging times
You can see why Hanway is reluctant to go all out with declarations of cast-iron confidence. Because there is more to contend with than a failing economy and construction delays. Terrorism threats and the outbreak of the Zika virus in spring 2015 have thrown two, hugely damaging and completely unforeseen spanners into the works.
"Of course you have to worry about these things," says Hanway. "It would be foolish not to. On Zika, I am not a medical professional so it's hard for me to comment. But I have been back and forth to Rio a lot since the outbreak, as have members of my team and we have all been absolutely fine."
As for the threat of terrorism, Hanway refers to the announcement that Brazil is spending around $200m (£153m) on security, and will deploy roughly 85,000 security agents – the largest-ever deployment in a single Brazilian city and more than double the number used in London for the 2012 Games. Nobody knows how safe that will ultimately make the event. If the past few weeks and months have taught us anything it is that there is no way of predicting how and when attacks will be made. But the message, loud and clear, is that security is top priority at the park and the satellite venue locations of Copacabana and Ipanema.
The power of sport
As talk turns to external threats, global uncertainty and the rise of terror attacks the world over, Hanway takes some time to reflect on the positive power of an event like an Olympic Games to bring people together.
"I think this is a time of turmoil in many countries of the world," he says. "We have the Brexit issues here, we have presidential elections in the US that are the most divisive event I've ever experienced in my life. We've got global economies looking at slowdowns or recessions or challenges and that impacts everyone.
"In some ways hosting an Olympic Games may seem trivial to some when we are facing such horrific challenges. But, sport has the power to rally people and allow them to express different emotions by supporting the global interest in humanity. We have heard all the negatives in the run-up to Rio. But I really hope that once the Games start, it will remind people how important humanity is and will help take people away from some of these troubles." (see box, left)
And he adds that the long-term legacy of these events should not be underestimated. "If there is a positive use for major events, whether they're sporting or otherwise, that can fund and deliver capital investment either into city cores or into wider regeneration, I see the Olympics as being a wider vehicle for doing that."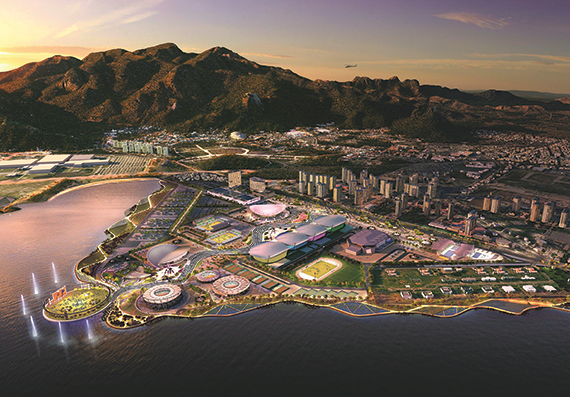 Olympic delivery
As for his wider remit, Hanway says that working on three – and up to 2012, four including London – Games plans at once is a useful tool for constant upgrades and improvements. "You can be watching one at a certain stage and learn from it and directly feed those observations into another plan at an earlier stage," he says.
"Each city is at a different stage of development and that allows me and my team to focus on the key priorities of each one. For Rio now it is all about final delivery. In Tokyo it's at the stage where we are commenting on development and design for venues and discussing issues around practical delivery. In LA it's about creating a narrative around the Games. Having them all at such different stages really allows us to better control and manage the process."
Then there are the three diverse cultures. Something Hanway concedes he often has to prepare for by using long flights between countries as enforced compression chambers: "These are three very different cities and the experience of three such different cultures is fascinating," he says.
"I think stereotypes are, in many ways, driven from some elements of reality. In Rio, the process could be seen to be more chaotic that, say, the more rigid planning in London for 2012, but I think the overall structure of the delivery with the public private partnership and the leadership that the mayor applied to the whole process was actually pretty clean in terms of the work that we were doing.
"The culture in Japan is very different again, of course. You go from the lively, loud, emotional feel here in Rio to a much more formal welcome in Tokyo. And Los Angeles is different again.
"But I do hope the one thing they have in common is that unifying effect I talked about earlier.
"We are living through tough times. And now could not be a better time for people from across the globe, to pull together and celebrate achievement."
---
Game power: how Olympics have united the world in tough times throughout modern history
In the aftermath of Brexit, the potential rise of Trump and the ongoing threat of terrorism, are the Rio Olympic Games an irrelevant distraction or desperately needed?
The irony that an event promoting peace and tolerance being held in the midst of such a chaotic and conflicted world is both unfortunate and somewhat wonderful. In a time of political, economic and social uncertainty, the 2016 games could be a fresh reminder of the unity within human nature.
Over the 120 years of the modern Olympic Games, they have been used as both a celebration of sporting success and an influential recognition of integration and equality.
In the face of unimaginable discrimination and ahead of one of the most horrific persecutions in modern history, nine Jewish athletes won medals at the Berlin Olympic Games in 1936, in Nazi-dictated Germany.
And while the government saw their Olympics as an ideal opportunity for feeding propaganda to its people by attempting to prove the superiority of the Aryan race, the legendary Jesse Owens, an African-American, won four gold medals and became a hero.
Twelve years later, in post-second world war Britain, London hosted the 1948 games, with the undeterred 'make do and mend' spirit prominent throughout. These so-called 'Austerity Games' were not only the most important sporting event on the globe, but a chance for Britain to show the world that the worst of the war was far behind them. Despite the rationing system for both clothes and food, athletes made their own uniforms and were given extra provisions by other countries, who truly embraced the Olympic spirit and, against all odds, produced a successful games.
Two decades on, as the Vietnam War and US racial segregation grabbed the headlines, the 1968 Mexico City games took place. Gold and bronze medallists Tommie Smith and John Carlos, both black men, took the games as an opportunity to stand against racism and raised a hand covered in a black glove atop the victory platform to bring attention to the black rights movement.
Almost half a century later, the world faces corruption, threats and political uncertainty. Perhaps, like those before it, this year's Olympics could provide a renewed sense of unity within the 207 nations competing. The five rings of equal dimension, representing the five parts of the world that enter the games, speak volumes. Surely we are stronger interlocked together than forced apart?
Additional reporting by Rachel Lucas