Gary Barnett pioneered New York's skinny skyscraper phenomenon with One57, the super-tall, super-prime residential tower that wowed the city's billionaires. In his first UK interview, he tells Jack Sidders why the time is right to reach higher still
---

In one giant leap, One57 redefined super-prime residential in New York City. When the distinctive 90-storey blue glass building emerged at the heart of the city's skyscraper-packed skyline in late 2014, people noticed. With its super-tall, super-skinny profile, the tower was something completely new.
Trading on unrivalled views and a slender design making whole- and half-floor apartment layouts the norm, the scheme smashed records for prices paid for NYC residential, averaging well over $6,000 per sq ft.
It benefited from being the first such scheme out of the ground after the global financial crisis, meaning it had very little competition when the market roared back. The success earned its developer, Gary Barnett's Extell Developments, acclaim and disapproval in almost equal measure, landing him first place in the Commercial Observer's list of the 100 most powerful people in New York real estate in 2013 (an accolade not welcomed by the publicity-averse man himself), and vilification in the mainstream media, which disapproved of the shadows cast by the building and the conspicuous nature of its construction.
Undeterred, Barnett has now broken ground on something even taller – Central Park Tower at 217 West 57th Street, which will top the succession of rival developments that have followed One57 on the south side of the city's Central Park. Rising over 1,500 feet, the development, commonly known as the Nordstrom Tower, will be the tallest residential block in the world.
But with the market now deep into its present cycle and with a lot more competition for billionaire buyers, can Barnett repeat his One57 success? In his first UK interview, the outsider king of New York's super-prime market talks towers, timing and being dubbed the anti-Donald Trump.
Thinking thin
Although One57 has set the mould for the skinny skyscraper trend, it was never meant to be that way.
"I started assembling the land 18 years ago and it took over 10 years to complete – more than 20 transactions of big buildings, little buildings, vacating them, air rights – it took a long time," says Barnett, speaking in his Third Avenue headquarters. 
"As I saw an opportunity to get bigger, I realised 'hey, you can have a really tall building here with spectacular views of the park'."
At the time, back in 2007, real estate moguls Arthur and William Zeckendorf's 15 Central Park West was demonstrating that there was a strong market for luxury new-build apartments in New York – in part because many buyers found themselves discriminated against by the co-operatives that typically control much of the city's traditional high-end stock.
Buying in co-ops meant that full disclosure and approval from the building's often conservative tenants would be needed – but buying new-build engendered no such requirements.
"Of course, by that time, 15 Central Park West was hitting new highs," says Barnett. "And I said 'everything we have here is in a way better: direct and centre Central Park views, a five-star hotel service with the Park Hyatt, super quality, beautiful layouts and designs'.
"So I figured, OK we should be able to price at the same levels or even better, and in fact that's what the market appreciated."
If 15 Central Park West was the scheme for the last cycle, Barnett quickly pushed ahead with One57 after the downturn to make it the scheme for this cycle. The gamble to build while others assessed the damage caused by the crash paid off and the tower quickly achieved eye-popping sales figures.
Average sale prices at the scheme – which is now over 80% sold – comfortably top $6,000 per sq ft. An 11,000 sq ft penthouse on the 89th and 90th floors of the 1,004 ft-tall building sold for $100.5m at the start of this year, making it reportedly the most expensive apartment ever sold in New York City and reflecting a price in excess of $9,100 per sq ft.
"We are not chasing the market up; we are going
to price it at what we think is fair value. We are not
looking to exploit every last dollar here."
Unsurprisingly, perhaps, One57 was quickly followed by a rash of similar developments. Macklowe Properties' 432 Park Avenue and Vornado's 220 Central Park South are among at least seven super-tall residential towers either recently completed, under construction or planned around what has been nicknamed the billionaire belt at the southern end of Central Park, and their prices have now begun to top those at One57.
But the wave of development soon caused a backlash from city residents who resented the long shadows cast over the park by the towers, providing an irresistible visual metaphor for how the lifestyles of the ultra-rich were affecting everyone else. Barnett was the only developer to brave a community meeting to address the concerns about the towers, enduring a prolonged public assault on One57 but endearing himself to the audience by describing himself as a glutton for punishment.
There have been other controversies, too. The scheme was caught up in a political scandal involving affordable housing tax breaks after the apartments were marketed with a 10-year abatement. Extell, like many other developers, had purchased tax-savings certificates from builders of actual affordable housing, which could then be used to cut annual real estate tax bills, exploiting long-held, if controversial, city rules. It also hit the headlines again during construction as hurricane Sandy caused severe damage to the crane at its summit.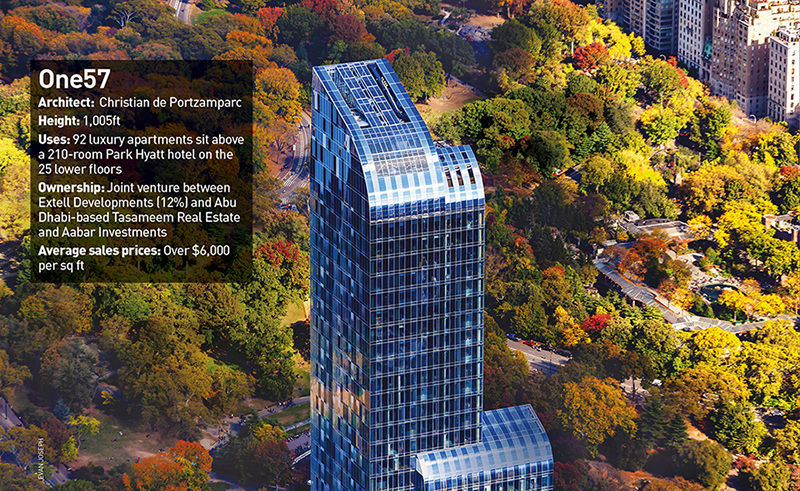 Diamond dealer
But the experience of developing the city's highest-profile apartment complex has left Barnett, a former diamond dealer and father of 10, undaunted and now he is coming back for more. Extell's Nordstrom Tower at 217 West 57th Street is well under way and is set to break new ground in the exclusive world of skinny skyscraper development.
At over 1,500ft, it will be the tallest residential building in the world, with its spire just shy of the 1,766ft One World Trade Centre. Barnett is not quoting sales prices yet, but says he expects to launch the marketing next year ahead of the building's opening in 2018 and final completion in 2019.
"It is a great market, people are doing very well,
and then you get too aggressive and you kill the golden goose
– and we don't want to do that."
Just a block away from One57, the decision to press ahead with Nordstrom, officially called Central Park Tower but known for the department store that will occupy its base, has been widely seen as a huge gamble on the market. But Barnett says he is confident the remaining apartments at One57 will be sold before marketing for Nordstrom gets under way, despite a recent slowdown in the sales rate.
And he says he is realistic about the pricing that can be achieved. "We are not chasing the market up; we are going to price it at what we think is fair value," he says. "We are not looking to exploit every last dollar here."
In fact, Barnett has a considerable advantage over many of the schemes he will be competing with, namely that the price he paid for the land the tower will occupy is well below market levels, as it was assembled over many years.
"We have some room," he says. "We are not looking to exceed prices achieved elsewhere because we are not looking to take that extra mis-step. It is a great market, people are doing very well, and then you get too aggressive and you kill the golden goose – and we don't want to do that."
Oversupply concerns
But that doesn't mean he is not concerned about oversupply. New York City is undergoing a building boom, with 52,618 new residential units permitted last year, the highest number since 1963. The surge in development is taking place across the spectrum, from 22,000 new homes planned for northern Brooklyn to hundreds of super-luxury flats being built in Manhattan.
Barnett says he always has "concerns about oversupply", despite the "very solid demand" both worldwide and domestically for New York City real estate.
"Could supply catch up with and surpass demand and then affect the market? Yes, it could. So now the question is: to what extent? And how does that affect the market? And how long does the market go down for? Historically, we have seen that New York goes down – it is not immune to cycles – but it comes back more quickly and probably stronger in the next cycle. We saw that in 2008."
Whatever the market may be doing when the first buyers move into the Nordstrom project in 2018, there could be other challenges for Barnett.
"Any ongoing attempt to single out the wealthy would be a
huge mistake and I think the city understands that"
Political rhetoric is growing as Manhattan increasingly becomes the exclusive preserve of the rich, pushing middle- and working- class residents to the outer boroughs and beyond, and it is starting to have an impact on policy-makers.
Democrat state senator Brad Hoylman – an outspoken critic of the super-tall towers – has called for an "oligarch tax" that would raise rates on homes valued at over $5m that are not permanently occupied. Others have come out against the use of "poor doors" – separate entrances provided for affordable housing tenants in many of the city's luxury schemes, including those developed by Extell.
Meanwhile, Democrat mayor Bill de Blasio has unveiled his long-anticipated affordable housing plan that would compel developers to provide at least 25% affordable housing in areas that are re-zoned – significantly higher than anywhere else in the US. But, unlike many of New York's real estate royalty, Barnett seems largely unfazed by these proposals.
Lifelong Democrat
"I think the mayor's policies have been very good," says Barnett, a lifelong Democrat who donated to de Blasio's mayoral campaign.
"He is, of course, very concerned about affordable housing, but so are all of us, and I think his policies have generally been to encourage development, both for the creation of affordable housing but also for well-paying jobs."
But he is concerned about the oligarch tax and the rhetoric surrounding it, pointing out that North Americans account for about half the purchases at One57, followed by the Chinese and Middle Eastern buyers.
"Development is a tremendous resource for New York City, a tremendous generator of taxes, jobs and overall economic activity," he says. "But I am concerned about the anti-rich rhetoric, about the us against them.
"Any ongoing attempt to single out the wealthy would be a huge mistake and I think the city understands that."
Barnett's support for de Blasio is one of many factors that make him an outlier in the upper echelons of New York's real estate industry. The city's property market is dominated by the macher, the patriarch tycoons who ingrain themselves in civic life and politics as much as they do real estate, cutting larger-than-life public figures.
"I will definitely not be voting for Donald Trump."
Donald Trump has turned his own personal brand into a media powerhouse, making him the unlikeliest of early front-runners for the Republican presidential candidacy in 2016. A 2010 profile in New York magazine described Barnett as the anti-Trump, such was his outsider status and habit of rubbing up many of his peers the wrong way with audacious bids for development opportunities or fierce tussles over air rights.
Barnett says his characterisation as someone who stays out of the macher world is "pretty much the case".
"It is not relevant to me what other people are doing except for its effect on the marketplace," he adds.
But, contrary to reports, Barnett says he has a good relationship with Trump, not that they talk a lot.
"There is certainly mutual respect on the development side – and I'm staying out of politics," he says with a smile.
"I will definitely not be voting for Donald Trump."
---
Track record
Born Gershon Swiatycki to a Talmudic scholar father in New York city, Gary Barnett originally began investing in real estate in the late 1980s while living in Belgium.
His early deals, investing on behalf of his wife's family, focused on buying up buildings in the US Mid-West. In 1989 he founded Extell, eventually moving back to New York to focus on property full time.
The company has since built more than 20m sq ft of apartments, hotels and offices, mainly in New York City. Among its most significant non-residential schemes are the International Gem Tower, a 750,000 sq ft Midtown office block that is home to New York's diamond industry.
It has also developed four prominent hotels in the city, including the Hyatt and W hotels in Times Square.